About us
Nominette supplies woven name labels, iron-on label, sew-on labels, text bands and wrist bands that you can design and order on-line.

We have manufactured these personalized labels in our own factory in Erpe-Mere/Belgium since 1920.

Our craftmanship ensures the quality of the product.

After all these years, our personalised name label is still trendy and is used in many new, original applications.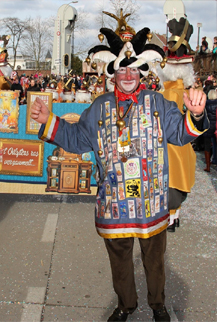 Nice to know...
We congratulate the city of Aalst, our factory's home base. Its unique carnaval has been awarded UNESCO's immaterial world heritage status
We are proud to have been able to make a small contribution to this success by weaving special carnaval bands for various prinses and marching groups of carnaval since 1954. special.
For more information
http://carnavalslintje.be/

Our woven name labels are made of 100% polyester fibres, certified with the Oeko-Tex Standard 100 quality mark, which guarantees the environmentally friendly and socially responsible nature of our production process.

Nominette.com is the only label manufacturer in Belgium whose labels have been tested and approved by CENTEXBEL
The quality mark awarded by CENTEXBEL ensures that you have chosen for a good product which you can enjoy for a long time.
»
Analysis Report

Nominette is a
sistercompany
of EE labels:
www.eelabels.com
Small numbers
(starting at 100 pieces)
High quality
Fast delivery

Always Up-To-Date?
Sign up now for our newsletter.
Address
Nominette b.v.
Evenbroekveld 16 B
B-9420 Erpe-Mere
Belgium
T: 0032 53827770
E: info@nominette.com
VAT nr.: BE 0817357731
Opening hours
Timezone: UTC +1 ( Brussels)
Mon - Thur
8.30 am - 12.00 pm
13.00 pm - 16.30 pm
Fr.
8.30 am - 12.00 pm
13.00 pm - 15.30 pm